Finally caught Urinetown at the Main Street Theater, which is amusing cuz I was sort of interested in seeing it while I lived in NY, and I ended up catching it all the way down in Houston. Anyways, the musical was funny and entertaining, and I highly recommend it. On top of that, tickets were dirt cheap. Before the performance, I was concerned about missing the Pats-Chargers game as well as the beginning of the 24 premiere. Turns out both were major disappointments. Jack Bauer may kick ass, but that dude is such a sucker. I'll give it another shot tomorrow night since at the very least, Kal Penn is fun to watch.
Takashi Murakami's exhibition Reversed Double Helix ends tomorrow. Stopped by Rockefeller Center last weekend and snapped a few pics.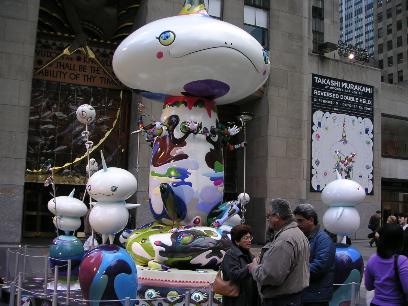 Missed this somehow. Museum Mile Festival is today (second Tuesday of June) from 6-9pm. Free admission at nine museums along Fifth Ave.