Working your whole life wondering where the day went
The subway stays packed like a multi-cultural slave ship.
-Immortal Technique
It's interesting to reflect on how much things have changed over the last year. My taste for music alone has shifted dramatically from pop to hip-hop to punk. The NFL season has barely started, and my usual excitement for fantasy football is already waning. Most significantly, the so-called mid-life crisis is in full swing. It's time for another experiment, something radical. I've been talking about it forever, and it's time to get the ball rolling.
Speaking of experiments, I have overinflated the tires on the hyb this week to 37 psi to see what kind of fuel economy gains I can achieve. Current tank is running at 59-60 mpg for the first 100 miles under normal driving conditions.
My first 600+ mile tank! This was also my best tank yet at 55.1 mpg. Had no bars on the fuel gauge, of course, but I still had 1.3 gallons left in the tank when I filled up last night (last reading: 604.3 miles).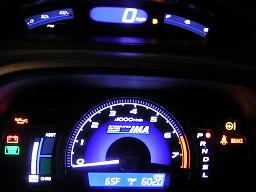 Cranked out my first 500+ mile tank on the hyb this morning. My best tank yet at 51.8 mpg. Booyah! Still had 3 bars on the fuel meter (~2.5 gallons remaining), too, so could have tried to squeeze out 600, but it might have been a bit stressful... Took a snapshot to celebrate the milestone.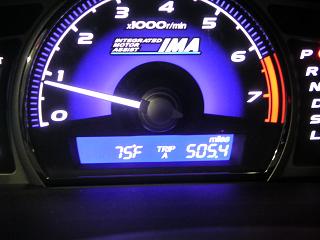 Switched my electricity supplier from Reliant to Amigo and got my first bill today. They charged $8 for the switch, which I figure I will make up easily in the next month. Strangely, I'm looking forward to receiving my next electricity bill.
Seven Honda Vehicles Certified for New Energy Tax Credit. Finally! Just noticed this today. Without the credit, the Civic Hybrid commands a substantial premium over the EX so it's nice not to have to deal with this uncertainty. Driving this baby (resisting the urge to name it Hybrie...) is a real pleasure, even when averaging 15 mph on 288 in a steady drizzle.
I must admit that I experienced a bit of buyer's remorse shortly after getting the Civic Hybrid. The lack of cargo space (rear seats don't fold up because the batteries are stored behind them), low horsepower, and soft braking had me wishing that I had purchased a non-hybrid Civic EX instead. Lately, however, I am thrilled to have such a mileage beast (obviously a major factor in my buying decision), and it is just fun to drive and look at. I don't haul large parcels often, and the 110-hp engine keeps me from speeding excessively.
Huh. Kinda forgot that there's another hacker conference in NYC this year. Might actually miss it for once.
Mini is finally here as of this weekend. Tiny and cute, which is incredibly appropriate for its owner. Hee hee.