Just noticed last night in Time Out NY that Liz Phair is playing the Bowery Ballroom on 8/10. Apparently, tickets ($20) went on sale a few days ago, but the show is already sold out. Just called the box office (Mercury Lounge) and confirmed this. 🙁
At least one broker is already selling tickets for $135 each.
Rumsfeld concedes banned Iraqi weapons may not exist.
But now, Donald Rumsfeld, the Defence Secretary and one of the leading hawks on Iraq, has admitted that the weapons may not exist. "We don't know what happened," he told the Council of Foreign Relations in New York. "It is also possible that [Saddam's government] decided they would destroy them prior to a conflict."
Well, that didn't take long at all. The AA-Ebay exchange rate is down to 0.5 pts/mile.
BTW, the deadline to submit ticket requests for the 2004 Super Bowl (Houston) is this weekend.
Ebay program turns airline points into pennies. What a sweet idea. Current exchange rate on points.com is 72 Ebay Anything Points per 100 AAdvantage miles. Admittedly, 0.7/mile is a bit low, but AA miles are almost worthless to me anyways. Now I don't feel quite so silly about collecting all of those Kellogg's cereal box certificates...
New toy! My Sipix StyleCam Blink II digital camera arrived from Amazon. The instructions warn that using rechargeable batteries will damage the camera, which doesn't make me too happy. In any case, it's super-tiny and fun to play with. Not bad at all for $35.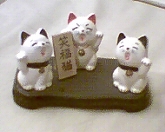 Been going Ebay crazy again. Just got my $7 video card today (Matrox Millenium II). This puppy is dual booting XP Home and FreeBSD 4.6, and XFree86 is running beautifully. Speaking of Ebay, this feedback is hysterical.
Finally got file and printer sharing working between XP and Win98 (crossover cable connection). No messing with NetBIOS or Browser Master settings. The problem pretty much boiled down to the AutoLogon registry setting. When I either logoff and logon or disable the registry setting, everything works fine. No cryptic "unable to browse the network" message when I open Network Neighborhood.