With Cable TV at M.I.T., Who Needs Napster?.
Two students at the Massachusetts Institute of Technology have developed a system for sharing music within their campus community that they say can avoid the copyright battles that have pitted the music industry against many customers.
It seems cell phone number portability is just a month away. I probably kept my SPCS phone a bit longer than I should have so I could keep the old number, but that was just silly since I don't receive nearly enough calls to justify a $40/month bill.
Just finished yet another DVD rental free trial. Number Slate is up next. Here is a brief comparison.
Takashi Murakami's exhibition Reversed Double Helix ends tomorrow. Stopped by Rockefeller Center last weekend and snapped a few pics.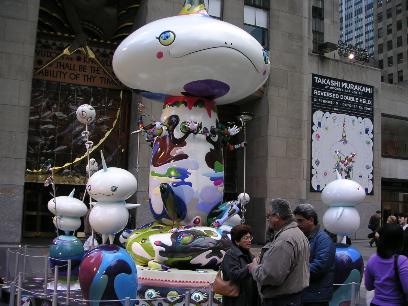 Pentagon offers 'bioterror kit' online.
The news is particularly embarrassing, coming only days after the CIA-led Iraq Survey Group claimed the discovery of similar equipment in Iraq was evidence that the Saddam Hussein regime had a covert weapons programme.
Finally finished season one of 24 last week, and now I am HOOKED. Got a couple more weeks to catch up on season two, and then it's time to reprogram the VCR...