DSL kicks in today two days prior to the service date Verizon quoted. Nice... Perfect timing, too, as I bought a router and installed the filters last night. Will test the connection speed tonight.
Caught a sneak preview screening of The Girl Next Door on Saturday, and I was pleasantly surprised. Pretty funny, and naturally, that healthy dose of Elisha Cuthbert didn't hurt... 😉
Charges Dropped Against Chaplain. Easily overlooked if you weren't reading the weekend news. No apology of course, which is simply wrong considering that these jerks were talking death penalty initially.
The case against Captain Yee, who officials once suggested was part of an espionage ring, had become a lingering embarrassment for the Pentagon.
Blow to Bush: An Ally in Spain Is Rejected by Antiwar Voters.
When France and Germany balked at supporting the war on Iraq, the Spanish prime minister, José María Aznar, stood publicly by Mr. Bush at a summit meeting in the Azores a year ago this week, and just days before the war began. Now voters have elected the opposition Socialists, although the center right was leading in the polls until the terrorist attack.
Finally tried the Japanese-style cream puffs at Beard Papa's Sweets Cafe today. Ended up waiting about half an hour in 35° weather as the line was halfway down the block. What a bunch of nuts... :-p People kept stopping to ask why we were waiting in line and if they were giving stuff away. The cream puffs were pretty nice, but not being a big cream puff fan, I couldn't really understand the fuss...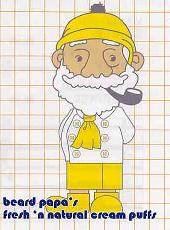 Britain Frees 5 Citizens Sent Home From U.S. Jail.
The police have freed all five Britons flown home from the jail at the American base at Guantánamo Bay, Cuba, raising questions about why they were held for two years, and on Thursday a lawyer for one of the men denounced their captors.
This morning shortly after 9:00, a person jumped in front of the train as it entered the Fulton St. station.
The 4/5 platform was crowded when I arrived, and I parked in my usual spot to land in front of a stairwell at GCT. A few minutes later, people started to pour in our direction from the south end of the platform. I heard the words "someone jumped in front of the train" but wasn't sure what to believe. I scanned the the oncoming faces for tears or signs of shock and caught mostly dazed expressions.
A woman near me started ranting about if the person wanted to take his life, why couldn't he do it on his own time instead of inconveniencing everyone else. I was disturbed by this because a human being was likely lying dead on the tracks, and this woman was angry about her commute. Several people on our end of the platform stepped to the edge to take a look, and overtaken by morbid curiosity I did the same. In retrospect, this was not a great idea because at best I would witness something gruesome. Presumably (lucky for me), the jumper was underneath the train, and I saw only empty tracks.
As I moved back towards the A-C line, a transit worker approached with what appeared to be towels and bleach (industrial cleaner?). Not far behind, police officers pushed through the crowd towards the scene. I joined the exiting crowd and hopped a C train.
[12:18pm] Apparently, the person survived although the linked article has since been revised.
Shortly after 11 a.m., four late jurors arrived at the federal courthouse and deliberations for the 12-member panel were once again under way, marshals said. Subway service had been disrupted after a train at a lower Manhattan station hit a person about 9:10 a.m.; the person survived.
Bummer!
As of April 15, 2004, we will no longer be offering Private Payments® from American Express.

Private Payments Transaction History will continue to be available until May 1, 2004. Please use this time to print any necessary information from your Private Payments Transaction History.
Finally tried out Banh Mi So 1 (Broome St. near Mott) this weekend. The grilled pork sandwich ($2.75) is pretty tasty, but the meat is more what I would expect to find in a cha siu bao (roast pork bun). Ah well. The search continues.