A Night of Death and Terror for Lebanese Villagers. Israeli airstrike appears to be responsible for killing a bunch of sleeping civilians.
Leaving southern Lebanon now is dangerous. The two extended families staying in the house that the Israeli missile struck - the Shalhoubs and the Hashims - had discussed leaving several times over the past two weeks. But they were poor - most worked in tobacco or construction - and the families were big and many of their members weak, with a 95-year-old, two relatives in wheelchairs and dozens of children. A taxi north, around $1,000, was unaffordable.

And then there was the risk of the road itself.

Dozens, including 21 refugees in the back of a pickup truck on July 15, have been killed by Israeli strikes while trying to evacuate. Missiles hit two Red Cross ambulances last weekend, wounding six people and punching a circle in the center of the cross on one's roof. A rocket hit the ambulance convoy that responded in Qana on Sunday.
U.N. Says It Warned Israel Not to Fire on Post. In Lebanon, the Israeli military has killed hundreds of civilians and now four UN peacekeepers (accidentally, of course) in its war on Hezbollah, all for eight dead and two kidnapped soldiers. The US turns a blind eye and provides Israel more missiles. That makes us worse than drug dealers in my book.
The United Nations said today that its top officials in New York and its officers on the ground in Lebanon made repeated calls Tuesday to the Israeli mission and the Israeli military protesting repeated firing on its outpost in Lebanon where as many as four peacekeepers ended up being killed.
Cranked out my first 500+ mile tank on the hyb this morning. My best tank yet at 51.8 mpg. Booyah! Still had 3 bars on the fuel meter (~2.5 gallons remaining), too, so could have tried to squeeze out 600, but it might have been a bit stressful... Took a snapshot to celebrate the milestone.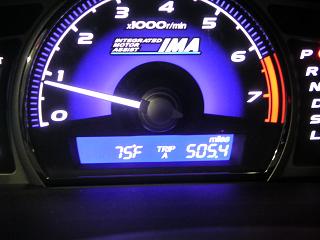 Switched my electricity supplier from Reliant to Amigo and got my first bill today. They charged $8 for the switch, which I figure I will make up easily in the next month. Strangely, I'm looking forward to receiving my next electricity bill.
Looks like Yahoo changed the format of its weather page recently and added the usual warning against repurposing its data. Boo! T-Mobile is going to start charging for incoming text messages next month anyways so I will just have to get the forecast online or on tv like everyone else.
Had to fax some financial documents yesterday and received quite the sticker shock. Apparently, $1/page is the going rate these days (UPS, Office Depot, mailbox store, etc.), and I had to send 15 pages to non-local numbers. Kinda weird to think that people still use faxes given the available technology (scan and email). Driven by obsessive frugality, I dug out my still functioning USR 56K modem and downloaded some freeware, but that route was incredibly time-consuming and ultimately a dead end. Finally, I purchased a small and inexpensive fax machine from Fry's, which not surprisingly turned out to be the best decision as I ended up having to fax yet another 12 pages this morning. Using retail services would have set me back nearly the cost of a new machine.
Speaking of Fry's, I don't usually like shopping there. When I checked out with the cashier yesterday, I was pleasantly surprised when the guy printed out the rebate form for the fax machine. "$59.99 with a $30 mail-in rebate. I'll get that form for you." How very helpful, I thought. I love it when Best Buy or Circuit City does this. Turned out, however, to be the wrong form (same brand, but different model). I had already saved the PDF rebate form earlier from Outpost.com, but I couldn't help wondering if this had been set up deliberately by management.
Finally hopped on the HDTV wagon this weekend. My little experiment worked exactly as I had hoped. Analog OTA reception where we live is lousy for UHF channels so I am basically paying $24/month to watch WB or Fox without snow or ghosts. HD broadcasts for both VHF and UHF channels look absolutely gorgeous using a cheapo Radio Shack antenna purchased years ago. Can't wait to cancel cable TV service. Next project is to build my own HD PVR before the regular season begins.